Ojala Financial Corp.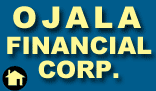 Ojala Financial Corp.
10 George St. N Brampton, Ontario L6X 1R2
We assist clients with their business buying & selling decisions, and offer result-driven business advise and M & A Solutions. We create wealth for our clients by helping them make informed business decisions. We are experienced and knowledgeable business bankers, specializing in multi business segments.