Belyea Bros. Ltd.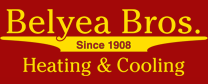 Belyea Bros. Ltd.
2 Thorncliffe Park Dr. Unit No. 24 Toronto, Ontario M4H 1H2
| Heating Airconditioning |
For over 106 years we have provided Toronto with unsurpassed professionalism and personal courtesy on every call no matter the size or scope of the project. We hold the first Metropolitan Plumbing and Heating License issued in Toronto. We are a family owned and operated business offering extensive knowledge in specialty hot water heating systems, radiant in-floor, snow melt systems, high and low velocity attic based air conditioning, ductless air conditioning, as well as conventional and high-efficiency boilers and furnaces, HEPA air filtration and central humidification systems.