Rickard Electric Ltd.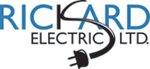 Rickard Electric Ltd.
P.O. Box 7009 RPO Brookside Fredericton, NB E3A 0Y7
Rickard Electric is a family company, owned & operated by Troy and Nancy Rickard. Serving Fredericton and the surrounding areas, at Rickard Electric we take great pride in everything that we do. We know there are many choices when it comes to electrical work and that it is difficult to know just who to trust with your investment.