Heirloom Cabinetry Ltd.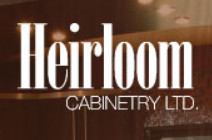 Heirloom Cabinetry Ltd.
Unit 11, Terracon Place Winnipeg MB R2J 4B3
Heirloom Cabinetry Ltd. offers a combined experience of over 50 years in the business to help plan and fulfill your dreams with the finest of custom cabinetry for your new home or renovations to your existing home. Over the years, Heirloom Cabinetry Ltd. has worked hand in hand with some of Winnipeg's best home builders and designers to create spaces that can truly be regarded as a cut above the standards of the industry. We take great pride in using the best of available materials, hardware, finishes, and design combined with quality craftsmanship to produce cabinetry that stands the test of time in function and durability. Whether its for your kitchen, home office, bar or media room, we make sure that our product fills your every need - in all styles from traditional to contemporary design. Our goals are simply to offer our customers the finest product at the best value and to meet and exceed your expectations on every level of service from helping you plan your project to installation.