E.T. Mechanical Ltd.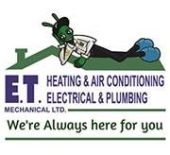 E.T. Mechanical Ltd.
85 Sunset Drive Fredericton, NB E3A 1A2
| Heating Airconditioning |
E.T. Mechanical Ltd. "Your Community Comfort Team" has been in business for 9 years with over 20 years of experience. We are the biggest and by far the best residential HVAC Replacement and Service Company in Fredericton. We do every type of Heating and A/C and have highly trained, and Licensed Technicians in every field; Refrigeration, Natural Gas, Oil, Geothermal and Solar. We do what is best for our clients, their families and their homes to give the biggest return on their investment and assure their family's comfort and safety.