Arthex property Management (1983) Inc.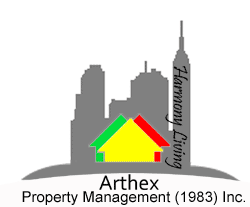 Arthex property Management (1983) Inc.
980 Fraser Drive, Suite 204, Burlington ON, L7L 5P5
Arthex is a third generation property Management Firm serving GTA since 1972. The Firm's inception took place in 1972 becoming one of the first property management company's specializing in managing corporations in Ontario. The founder of the company was Arthur Heximer hence the name Arthex. In 1983 Wayne Campbell R.C.M. acquired the company and incorporated the name style Arthex Property Management (1983). After twenty five years of successfully managing thousands of units in 2008 Mr. Campbell sold the company to property management entrepreneur Georgio Kosmidis who has expanded the company to service up to South-western Ontario. Mr. Campbell remains on the team as a senior property manager. Arthex is proud to be an ACMO, CCI, CHF and IHM corporate member and has successfully obtained the prestigious ACMO 2000 certification which distinguishes professional property management firms. We are pleased to have an A+ Better Business Bureau Rating.