Allwest Electric Ltd.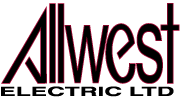 Allwest Electric Ltd.
Unit #2, 169 Golden Drive Coquitlam, British Columbia
Inspired by the success of his father, Mario Dallazanna of Inlet Electric Ltd., Anthony Dallazanna established Allwest Electric Ltd. in 2002. Anthony started his career in the construction industry as an electrical apprentice. He holds a Journeyman Electrician IP ticket, BCSA Class A contractors license, and is a registered Master Electrician in both Alberta and Washington State. Anthony has volunteered on the BCSA Electrical Technology Advisory Committee, ICBA Board of Directors, and continues to support local schools with the development of their apprenticeship programs. While maintaining the traditional values of his past and incorporating new techniques, Anthony has successfully become a well-respected mainstay within the industry.